| ACT Test Dates: | Register by: |
| --- | --- |
| September 8, 2018 | August 10 or August 11-26 w/ late fee |
| October 27, 2018 | September 28 or September 29-October 14 w/late fee |
| December 8, 2018 | November 2 or November 3-19 w/ late fee |
| February 9, 2019 | January 11 or January 12-18 w/ late fee |
| April 13, 2019 | March 8 or March 9-25 w/ late fee |
| June 8, 2019 | May 3 or May 4-20 w/ late fee |
Register at www.actstudent.org  |  UC Academy School Code: 054356
TEST PREP
There are several reputable companies out there that offer test prep courses. Some courses will even help you decide which is the better fit for you. Two resources are KAPLAN and Princeton Review who offer local test prep courses, testing diagnostics, and even test prep books.
UC Academy also offers our own SAT Prep Course. It is offered twice during the school year, fall and spring. For more information, please contact Lorraine Hoy at lhoy@UCAcademy.org.
SAT Group Course:  Top quality SAT preparation on-campus! Revolution Prep will be offering their comprehensive, six week course for United Christian Academy students to help them prepare for the fall and spring SAT. This course is held on campus. Classes meet on Tuesdays from 6-9pm, and practice exams are held on Saturdays from 9am-1pm. Increasing your child's SAT score is among the most effective ways to strengthen his or her college application and scholarship options in a relatively short amount of time.  Revolution Prep's courses include 18 hours of instruction and 5 full-length practice tests which will guarantee a 200 point increase!
For more information or to enroll, go to www.revolutionprep.com or call 1-877-738-7737. Financial assistance is available for any student in need.
Register for the college entrance exams:
ACT: http://www.actstudent.org/
SAT: http://www.collegeboard.org/ 
RECENT TEST RESULTS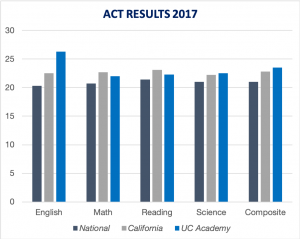 FAQS
Should I take BOTH the SAT and ACT and how often?
YES! Although some students' SAT and ACT test scores are similar, there are a significant number who perform better on one than the other. Therefore it is in your best interest to take both tests at least once to discover which one best suits you. The right time to take the SAT and ACT is spring and summer of your Junior year. We suggest taking it at least twice to ensure that you have achieved a score that meets your colleges' admission criteria and makes you a strong candidate for academic scholarships.
Should I guess?
On the ACT, always yes! You are not penalized for guessing, so never leave it blank. On the SAT, educated guessing is encouraged since only a fraction of a point is subtracted for wrong answers. Never randomly or haphazardly guess on the SAT, no points are subtracted for questions left blank.
Is it a good idea to hide my scores until I see how I do?
You cannot "hide" your SAT scores from colleges. The SAT score report a college receives includes ALL of your test scores, not just the highest.
Should I wait to send my scores?
No, for several reasons. You pay $7 per report if you wait until after testing to send them. The SAT score report a college receives includes ALL of your test scores, not just the highest. You can choose which ACT test score to send to colleges, but to do this you pay $7 per report. When you register for the SAT and ACT, you are given the opportunity to have your score reports sent to colleges for no additional charge.